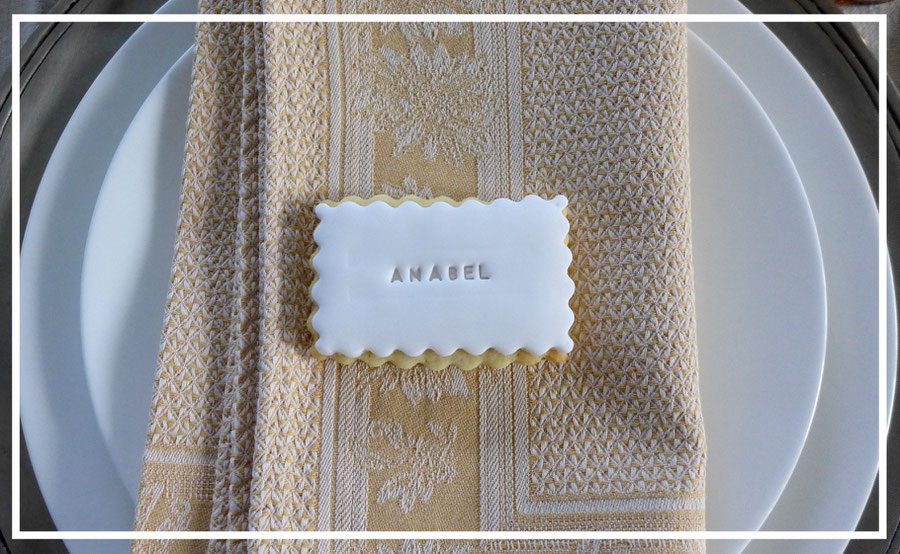 I have never been very good at decorating cut-out cookies. I think it's because I am impatient and I don't have a very steady hand. As much as I enjoy looking at pictures of beautiful, dainty cookies that are more artwork than anything else, I have tried and tried and failed every time. Most of the time, whenever I make cut-out cookies, I just don't decorate them at all. But when I got this cookie-stamping-set as a gift recently, I thought I would give cookie-decorating another try. Worst case scenario: I'd have to eat dozens of ugly yet very tasty sugar cookies.
I decided on using the cookie stamp set for Christmas Day. I knew we would have family over, and that we would make a seating plan beforehand anyway. This way, we would have place cards as well as a cute souvenir for people to take home (of course, almost everyone ate their cookies even before we started dinner but it's the thought that counts, right?).
Funny story (I hope): I didn't even plan on using fondant for the cookies. However, I used too mich raising agent in my dough so the cookies spread out a lot and after baking you couldn't even see what it said on the cookies. At first I was upset but then I decided on covering them in fondant and stamping the names on the fondant. This worked out great! So, all was well in the end. I even prefer the covered cookies. I'm already looking forward to the next occasion where I can stamp a cute message or a name on a cookie...
Cut-Out Cookies Covered in Fondant

makes about 20 big cookies
250 g flour
100 g white sugar
1 packet of vanilla sugar or 1 dash of vanilla extract
125 g soft butter
1 egg
1 pinch of salt
250 g fondant, ready to use
powdered sugar for rolling out the fondant
water
Cream together the butter, the sugar and the vanilla until light and creamy.
Add the dry ingredients and mix until the dough comes together and you can form a ball of dough.
Press the dough ball down to form a disk. Wrap it in plastic wrap and refrigerate for at least 1 hour.
When you're ready to make the cookies, take the dough out of the refrigerator and let it come to room temperature. Roll it out using a rolling pin on a lightly floured surface or between two sheets of plastic wrap. Dip your cookie cutter in flour and cut out your desired shapes. Transfer the cookies to a baking tray covered with parchment paper.
If the dough becomes too sticky and easily breakes, put it back in the refrigerator for about 30 minutes.
Bake the cookies at 180°C for about 13-15 minutes, or until the edges are golden brown.
Let them cool for about 10 minutes and transfer them on a wire rack to cool completely.
For the fondant cover, knead the fondant for a few minutes until it becomes soft and pliable and then roll it out on a surface covered in powdered sugar. Use the same cookie cutter as before to cut out shapes.
Use a pastry brush to lightly dampen the surface of the cookie with water, to make the fondant adhere. Put on the fondant and lightly press it down. Now is the time to stamp on something.
Let the fondant dry completely for about 24 hours. Keep the cookies dry and cool.