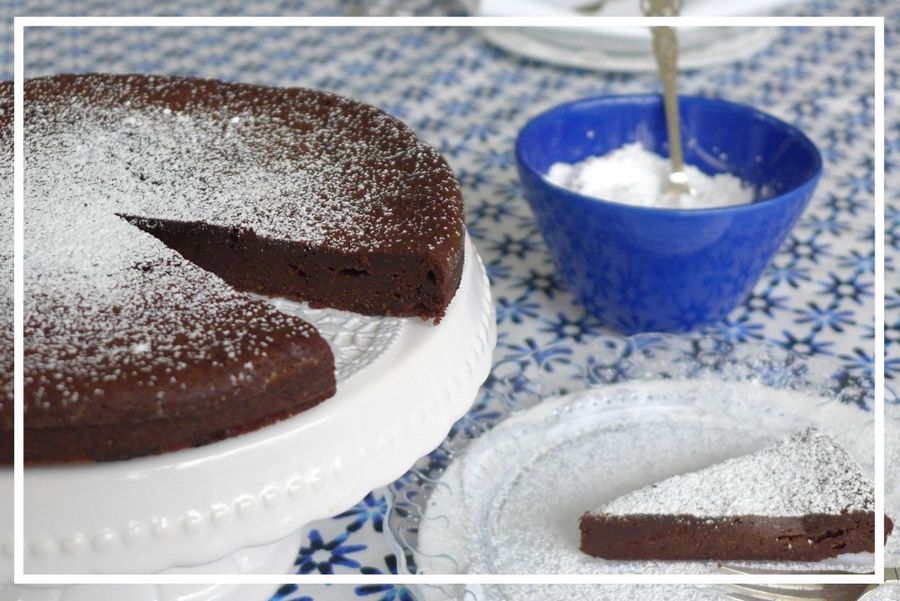 If you know me, you'll know that I am slightly obsessed with Pinterest. I could easily spend my whole day browsing the website for inspiration on everything from clothing over hairstyles to baking. And everything that I have ever pinned, I will surely bake or cook or buy or make one day! Right? Yes, Pinterest is indeed a great thing. Especially if I'm looking for a new recipe, because I will be visiting my grandparents and need to bring something...
Even though there are tons of amazing recipes out there, I didn't really find anything I wanted to bake last week. Everything was too much fuss or it required ingredients I couldn't get in my local supermarket or... I don't know. I just didn't find "the one".
Then I remembered that my mom has this recipe for a classic, no-fuss chocolate tart that tastes amazing and is so quick and easy to make. Few cakes are more elegant than a classic chocolate tart that doesn't just look beautiful but also satisfys any chocolate craving. By the way, my mother didn't find that recipe on Pinterest or on the Internet. She got it from a neighbour! Which reminded me that most of the time, the best things in life are found offline after all.

Chocolate Tart (Tarte au Chocolat)

Recipe for one 24 cm or one 26 cm springform pan
Preparation time: about 20 min without baking
Ingredients

200 g unsalted butter
200 g chocolate (Only semisweet will do! About 50% oder 70% cacao)
120 g white sugar
1 vanilla bean, split in half
4 eggs, medium size
25 g all-purpose flour
Preheat the oven to 180°C. Line a springform pan or a round baking pan with parchment paper, the butter the inside and lightly flour it.
Melt the butter and the chocolate together over very low heat while stirring occasionally. Scrape the seeds of the vanilla bean and add to the pot.
As soon as everything has melted, take the pot of the stove and let it cool. If your pot is quite small, pour the butter-chocolate-mix into a mixing bowl.
Add the sugar and whisk it in.
Add the eggs into the batter one by one while whisking continously. The butter-chocolate-mix should not be hot, because that would scramble the eggs!
Fold in the flour, until you can't see any white lumps of flour. Do not overmix.
Pour the batter into the prepared baking pan and tap the pan on the table a few times to get rid of any air bubbles.
Bake the cake for about 20-25 min. At the end of the baking time, insert a skewer to see if it's done: If the skewer comes out clean with no wet batter on it, the cake is fully baked.
Let the cake cool in the pan for about 15 minutes, then put it on a wire rack to cool completely. This cake tastes best the day after making it!
Right before serving, dust the tart with powedered sugar and serve it with lightly whipped cream.