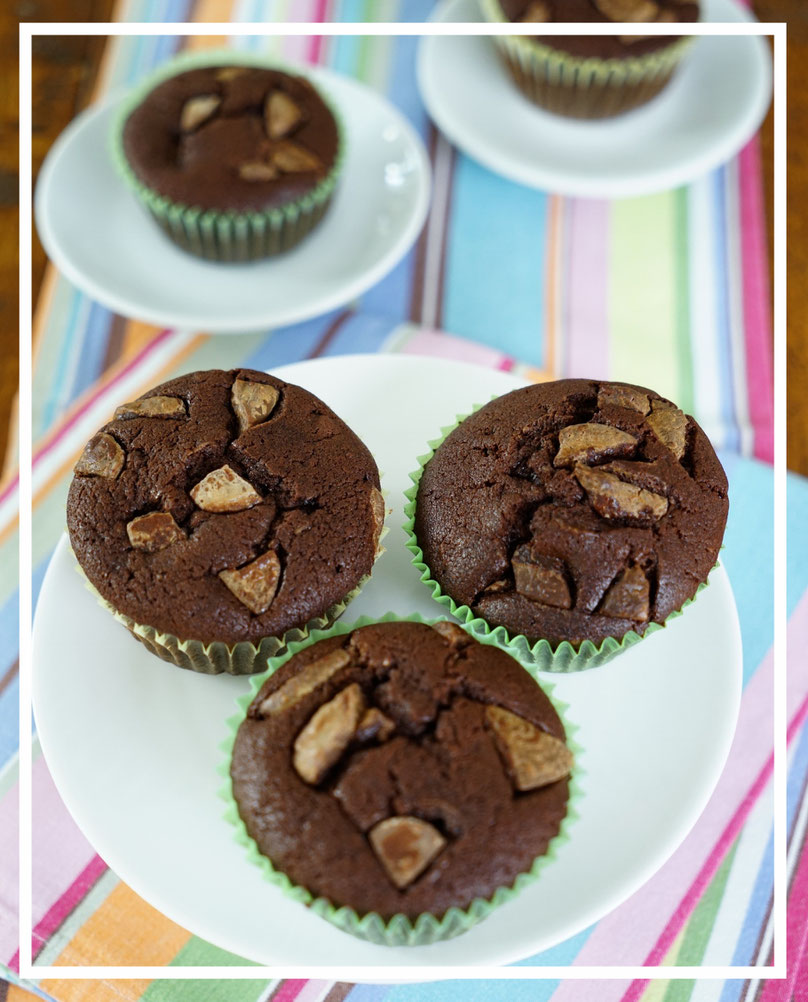 Recently I was on the road quite a bit which meant spending loads of time at train stations. In my opinion, the best thing about train stations are the bakeries or the food court in general. I feel like a snack is a very important aspect of travelling. Which is why I recently bought one of those huuuuge chocolate muffins you see at every bakery...
I find that they always look so big and chocolatey and delicious. But they're also quite expensive, and a little too sweet for my taste. So I decided to bake my own chocolate muffins! This way I can control the size and the taste. All it takes are a few, very basic ingredients and very little effort.
This recipe is definitely a keeper! The sour cream might sound weird at first but it keeps the muffins super moist. These double chocolate muffins are the best thing for when a chocolate craving hits!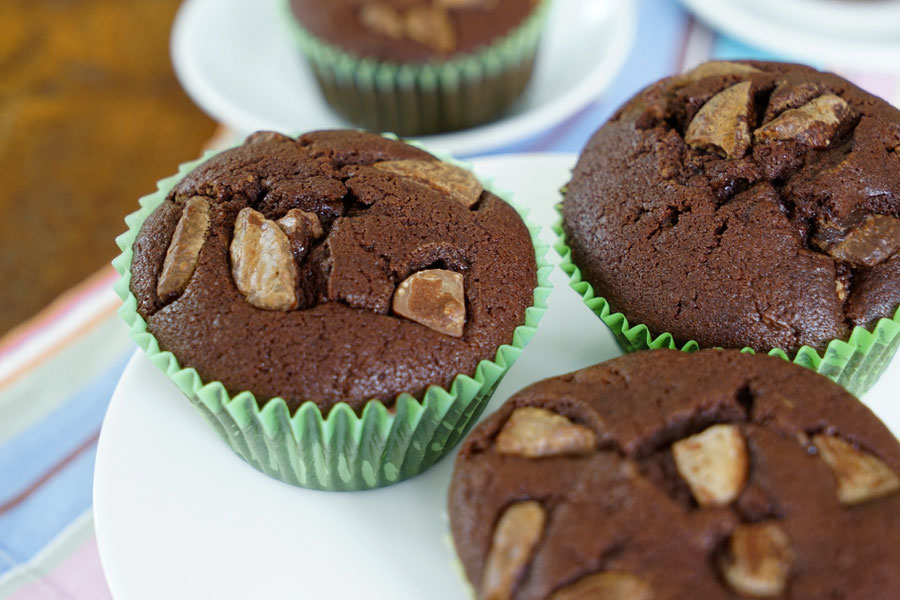 Double Chocolate Muffins
adapted from the Hummingbird Bakery Book
makes about 12-14 muffins, depending on the size
Ingredients:

2 eggs
100 g white sugar
50 g brown sugar
130 g all purpose flour
40 g unsweetened cocoa powder
1.5 tsp baking powder
1 pinch of salt
140 g sour cream (can be replaced with milk)
1  splash of vanilla extract
160 g melted butter
150 g chocolate (whichever one you like), coarsely chopped
Preheat the oven to 170°C and line a muffin tray with cupcake liners.
Beat the eggs with the sugar until light and creamy (this might take a few minutes).
Add the sour cream and the vanilla and mix everything together.
In a separate bowl, add the flour, cocoa powder, baking powder and salt and mix well so there are no big lumps.
Add the dry ingredients to the wet and whisk until evenly incorporated.
Add the melted butter and whisk it in.
Fold in the chocolate.
Use a spoon or an ice cream scoop to evenly distribute the batter into the cupcake liners. Fill them about 2/3 of the way.
Bake the muffins for about 20-25 min.
Enjoy and have a lovely weekend full of chocolate!