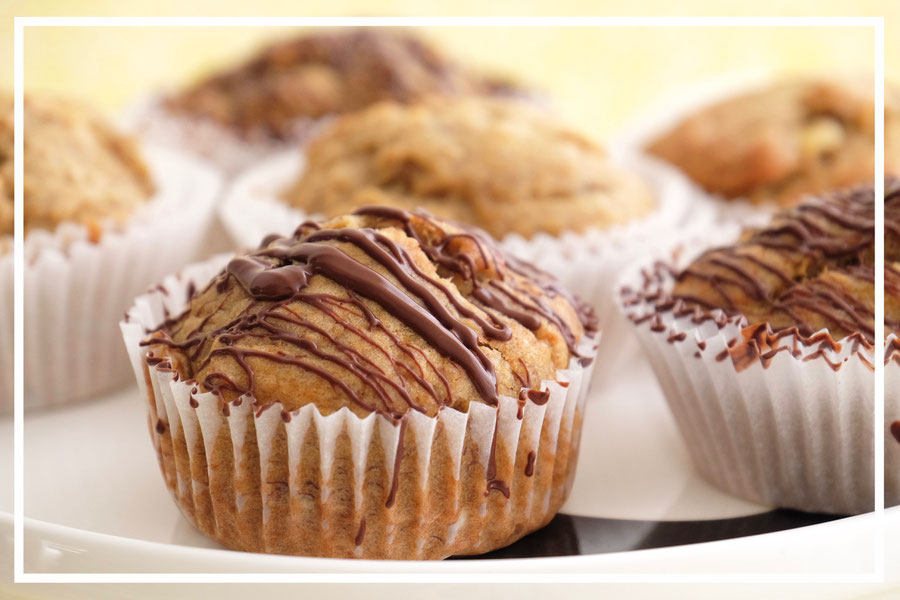 Hello World. I haven't posted anything on this blog in a long time and it almost feels weird to write again. What happened? Lots of things! I started attending church on Sundays, which meant less time for baking on sunday afternoons. Also, I fell in love and got a boyfriend. No biggie. Ha! Of course it's a biggie! So yeah. All of a sudden my priorities shifted. He is a pretty amazing guy, actually the best man I know, and I love him a whole lot. (He subscribed to the blog, let's see whether he actually reads this, haha). That sounds too good to be true? Yep, because it is. He lives faaaaar away now (7.342 km to be exact), which left me with a pretty big hole in my heart and lots of time. All of a sudden, it was just me again. Anyone who knows me well knows that I turn to food when I feel sad/happy/anything in-between and this time is no exception...
I miss him a lot. I don't know what's gonna happen in the future. But hey, at least I have these banana bread muffins. And they're vegan! Why, you ask? Well, over the past few months I started to incorporate more non-dairy stuff into my diet because aforementioned boyfriend can't have any cow's milk products (so sad). Only then I noticed how many great non-dairy products there are (coconut yoghurt!) but that when it comes to baking and cooking, it's not always that easy to find substitutes. After a couple of tries, I found a great recipe for dairy-free brownies made with coconut oil, which I might share on the blog at some point. Then I started an internship and lots of my colleagues are vegans, so I thought, why not go one step further and make the recipe a vegan recipe? Funnily enough, I just started eating bananas. No joke, I used to hate them. I especially hated the smell of bananas. And this comes from the girl who doesn't even hate spiders. But all of a sudden, a few weeks ago, I felt like eating a banana, so I did. And the next day, I ate another one. It felt kinda crazy. But in a good way. I think I'm starting to see what all the hype is about. So I decided to make Banana Bread recently. Unfortunately I didn't have a loaf tin so I just used a muffin tin instead. They turned out great, though: Super moist and fudgy, which is why I don't actually think they should be called banana BREAD. They aren't bready at all! But maybe you just need to try these yourself. I think that these are pretty amazing as they are, but if you like, you can mix in nuts, dark chocolate, cocoa powder - go crazy with this recipe! They are super easy and quick to make (preparing the batter takes about 10 minutes and all you need is a fork and a whisk) and you wouldn't even expect them to be vegan. But this way, everyone can have a muffin. And I strongly believe that baked goods make a lot of things better, not just heartbreak because your boyfriend is miles away. So maybe these muffins won't just bring a little bit of happiness into my life, but also into someone else's. Happy Sunday, everyone!
Banana Bread Muffins
makes about 12 muffins
Ingredients:
320 g mashed very ripe banana (about 3 Bananas)
15 g ground flaxseed (this replaces the eggs)
80 mL plant-based milk, unsweetened (I used almond)
80 mL coconut oil, melted
30 mL pure maple syrup
50 g brown sugar
1 teaspoon baking soda
1/2 teaspoon fine sea salt
1 teaspoon cinnamon
180 g all-purpose flour
optional: chopped nuts and/or chocolate chips for mixing in the batter
Preparation:
Preheat the oven to 160°C. Line a muffin tin with cupcake liners.
In a bowl, whisk together the mashed banana, the coconut oil, the milk and the maple sirup. Add the sugar and mix well until incorporated.
In a separate bowl, whisk together the flour, flaxseed, baking soda, salt and cinnamon. Add the dry ingredients to the wet and whisk together, until you can't see any more streaks of flour. Don't overmix! This step shouldn't take longer than a minute.
Fill the cupcake liners about 3/4 of the way full. These muffins will rise in the oven.
Bake for about 15 to 20 minutes. Check after 15 minutes to see wether they're done by inserting a skewer. If it comes out clean, the muffins are done baking. Let them cool completely in the muffin tin.