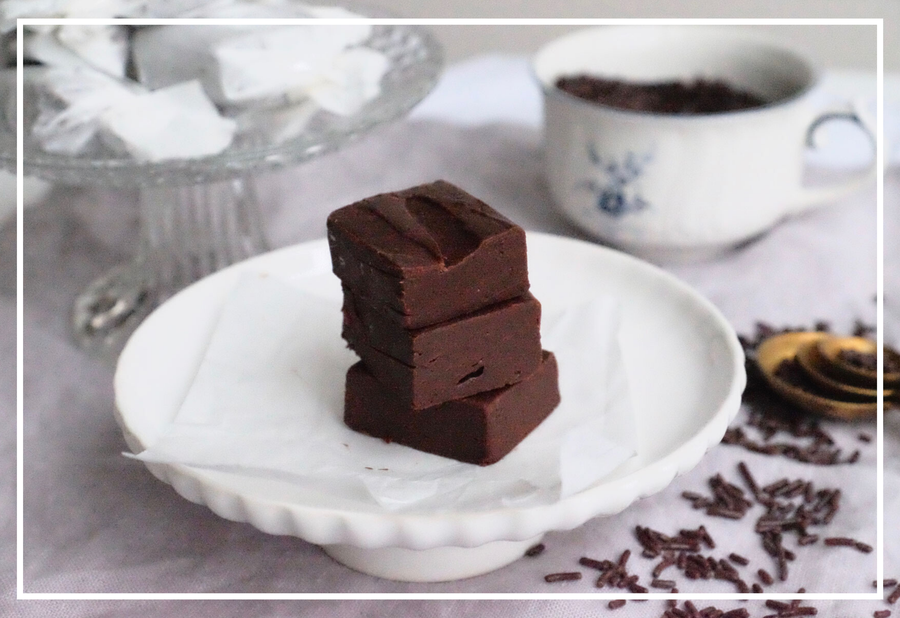 The past year it's been pretty quiet on this blog. That's because I've spend the past year in the USA. It has definitely been my most exciting and best year yet. However, while I did bake regularly, there wasn't much time for taking pictures and blogging about it. 
But now I'm back in Germany, where it's cold enough to turn on the oven any day and my favourite holiday, Christmas, is right around the corner. While I miss my favourite person a lot, I am excited to spend this Christmas with my family. And what better gift to give your loved ones than something homemade, yummy from the kitchen? Homemade gifts mean a lot to me, as you need to really invest time and effort into making something yourself. Actually, it's pretty funny that I am planning on giving my grandparents homemade chocolate fudge, as this is one of the easiest and fastest treats I have ever made. In fact, it's so easy to make, that I wonder why I don't make it on a weekly basis...
This chocolate fudge is made with only 4 ingredients, takes about 15 minutes to make (although it needs some time to cool down a bit) and I believe that it makes the perfect homemade gift, especially if you wrap it in parchment paper and put it in a cute bag. Usually making fudge takes quite some time and effort, but I took a shortcut with using sweetened condensed milk in this recipe. You can find that ingredient in most supermarkets at this point, usually in cans. Another great thing about this chocolate fudge is that you can add any kind of flavour or addition to make it even more special, for example roasted nuts, sea salt on top, M&Ms, or even crushed candy canes. I think I'll add some espresso powder next time for a caffeine kick. Merry Christmas!
Easy Chocolate Fudge
Makes about 25 pieces in a rectangle dish of 18 x 30 cm
Ingredients
1 can (around 400g) sweetened condensed milk

300 g semisweet chocolate (50-60% cocoa), chopped

1 teaspoon vanilla extract or paste or the seed of one vanilla bean

1 pinch of salt
Preparation:
First of all, prep the dish in order to easily remove the fudge later. Grease the pan and then add two strips of baking paper or parchment paper into the pan: One horizontally, one vertically. They need to be long enough to hang over the sides of the pan. This way, you can easily lift out the fudge later. Here's a link with good instructions: Link). Lastly, grease the baking paper, too. 

In a sauce pan over low to medium heat, add the condensed milk, chocolate, vanilla and salt. Stir regularly to make sure nothing burns on the bottom and everything melts together. Heat and stir until the mixture is thick, glossy and homogenous. This takes 5-10 minutes. At this point you can stir in any other ingredients you'd like to add, for example nuts.

Transfer the mixture to the prepared dish and smooth out the top. Let it come down to room temp for at least one hour. Afterwards you can transfer it to the refrigerator. It's easiest to cut once it's been refrigerated for around one hour. To cut, pull out the fudge by the ends of the baking paper and cut into squared. The fudge keeps well in the fridge for about 3 weeks or even in the freezer for longer.