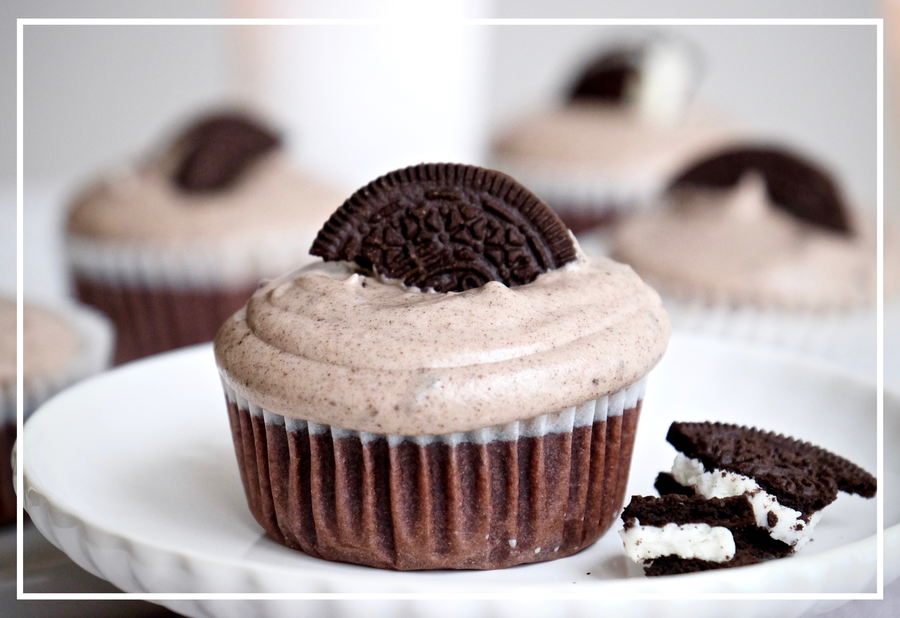 It was a friend's birthday last week and after two busy weeks starting a new job, I found myself excited to bake on the weekend. For me, baking is the most relaxing and fun thing to do, if I have time to research, plan and prep. Last-minute baking has a place in my life, too, but on the weekends I like to really take my time to bake. When I'm not rushed, I can enjoy every step. Thankfully, I usually see people on Sunday evenings that I can share my sweets with. Because few things are better than seeing a friends face light up when you tell them 'I made something for you!'.
I had already decided that I'd make chocolate cupcakes with Oreo frosting when I saw that my local supermarket carries the Double Stuff Oreos now, so those came home with me. Fun fact: In the US I found Triple Stuff Oreos, which I was super excited to try, as I think the filling is the best part. However, I felt like the Triple Stuff Oreo tasted overly sweet and the flavor of the filling was overpowering the cookie flavor, and now the Double Stuff Oreos are my favorite kind. I guess it's all about the balance, after all.
I think the same goes for cupcakes: I don't like it when the frosting is overly sweet to the point where you can't even taste the cupcake anymore. I think this recipe works so well, because the cupcake is super moist and rich, thanks to the cocoa powder, and the frosting really tastes of Oreos, but the slight tang of the cream cheese balances out high sugar content. By using a whole Oreo as the bottom of the cupcake, you get a little extra-Oreo surprise with the first bite. As with all of my recipes, this is fast and easy to make and will come together in no time. Because as much as I like to take my time baking, I am very impatient when it comes to eating my creations.
I hope you like these cupcakes as much as I do and that your week will be perfectly sweet!
Chocolate Cupcakes with Oreo Creamcheese Frosting
Makes about 16 Cupcakes
Ingredients for the chocolate cupcakes:
16 Oreos

50 grams unsweetened cocoa powder

240 ml boiling hot water and/or hot coffee

175 grams all purpose flour
1 teaspoon (4 grams) baking powder

1/4 teaspoon (1 gram) baking soda

1/2 teaspoon (2 grams) salt

113 grams unsalted butter, at room temperature
150 grams granulated white sugar

1 teaspoon pure vanilla extract

2 large eggs, at room temperature

60 grams sour cream
Preheat your oven to 350 degrees F (180 degrees C). Lightly butter, or line 16 muffin cups with paper liners. Add one whole oreo to each muffin cup.

In a small bowl, stir the unsweetened cocoa powder with the boiling hot water  or coffee until smooth. Let cool down.

In another bowl, whisk the flour with the baking powder, baking soda, and salt.

With an electric hand mixer, beat the butter, sugar and vanilla extract until smooth, light and fluffy, about 5 minutes. Add the eggs, one at a time, beating until fully incorporated. Scrape down the sides and bottom of the bowl as needed.

Add the sour cream and mix well. Add the flour mixture (in three additions) alternately with the cocoa mixture (in two additions). Beat only until the ingredients are incorporated (there's no more big streaks of flour).

Fill each muffin cup about 3/4 full with batter and bake for about 10-12 minutes or until a toothpick inserted into a cupcake comes out clean. Remove from oven and place on a wire rack to cool.
Ingredients for the Oreo frosting:
250 grams full fat cream cheese, at room temperature

60 grams of butter, room temperature

300 grams powdered sugar

1 tsp vanilla extract

5 Oreos 

Pinch of salt

More Oreos for decoration
Preparation:
Split the Oreos and carefully remove the cream. Add the cream part to a bowl and microwave it on low until its melted. Add the cookie part to a food processor and process into fine pieces. Or just add them to a ziploc bag, close it tightly and use a rolling pin to smash them.

With an electric hand mixer, cream together the butter, the creamcheese, the salt and the vanilla extract until light and fluffy, this takes about 5 minutes. Then add the Oreo cream and mix for a minute.

Add the Oreo crumbs and mix in. Then add the powdered sugar, gradually so as not to make a mess. If the frosting ends up too thick, you can add a few teaspoon of milk. 

Keep it in the fridge until you need it. Pipe the frosting on the fully cooled cupcakes and keep the finished cupcakes in the fridge until ready to serve.
Recipes adapted from joyofbaking.com and cravingsomecreativity.com