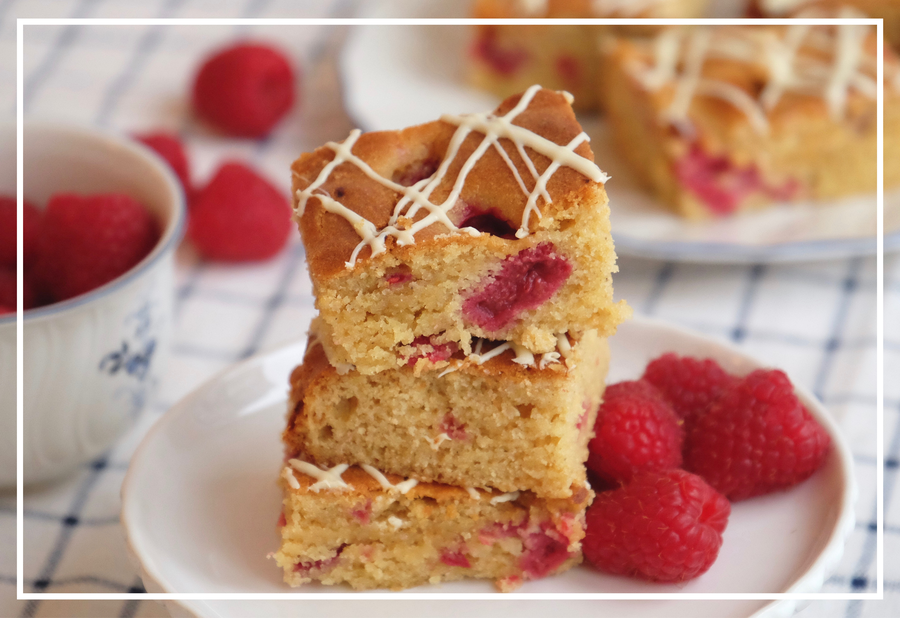 I've realised a few years ago that I like white chocolate. For most of my life, I didn't like it - or at least that's what I thought. I remember trying it once, when I was quite little, and it seemed overly sweet - I wasn't able to eat a whole bar of it, like I was with any other chocolate, so what was the point? I grew up not really eating white chocolate, unless it was in a form of dessert. Then, a few years ago I gave it another try and noticed that good quality white chocolate, even though it's not real chocolate, but rather a mix of sugar and cocoa butter, can actually be quite yummy, especially when it is paired with other ingredients such as coconut, raspberry or vanilla. So far I haven't baked much with white chocolate, but I feel like 2020 might be the year where I will live a little more adventurous.
These white chocolate and raspberry cake bars were a hit with my new coworkers when I brought them to work last week. The whole tray was gone, save for one piece, by the end of the day, which is what I call a success. I feel a little better, now that I've not just told everyone that I love baking, but have actually brought something to the office. 
This cake can be made in a round cake pan instead of a rectangular one, although you might have to adjust the baking time and keep an eye on it. You could also add in nuts or even white chocolate chunks, although I find that the molten white chocolate in the batter already lends the cake a very rich, sweet aroma, which is balanced well by the raspberries. I hope you enjoy this cake.
White Chocolate & Raspberry Cake
For a 13 x 20 cm baking pan
Ingredients:
180g unsalted butter, at room temp

100g white chocolate, chopped for the cake

100g white chocolate, for decoration

1 Tsp of vanilla extract/paste

2 eggs (M), at room temp

2 Tsp baking powder

200g all-purpose flour

1 pinch of salt

80g brown sugar

100 g frozen or fresh raspberries
Preparation:
Line the baking dish with baking or parchment paper and preheat the oven to 175°C.

Over very low heat, melt the butter and 100g of the white chocolate together.

In a bowl, cream together the butter and the sugar until well combined (this takes a few minutes to do by hand). Add the vanilla and mix in the eggs, one at a time, until everything is well combined.

Add the flour, the salt and the baking powder and mix in.

Lastly, stir in the raspberries quickly. The batter will be quite thick.

Fill the prepared baking dish and put on the medium rack in the oven. Bake for about 20-25 minutes, testing with a skewer after 20 minutes. Take the cake out of the oven when it's lightly golden brown on top and no wet batter sticks to the skewer. Let the cake cool down in the pan for 10 minutes and then transfer to a baking rack to cool completely.

Melt the remaining 100g of white chocolate over very low heat. Fill a piping or ziploc bag with the chocolate, snip of a tiny corner and decorate the cake.