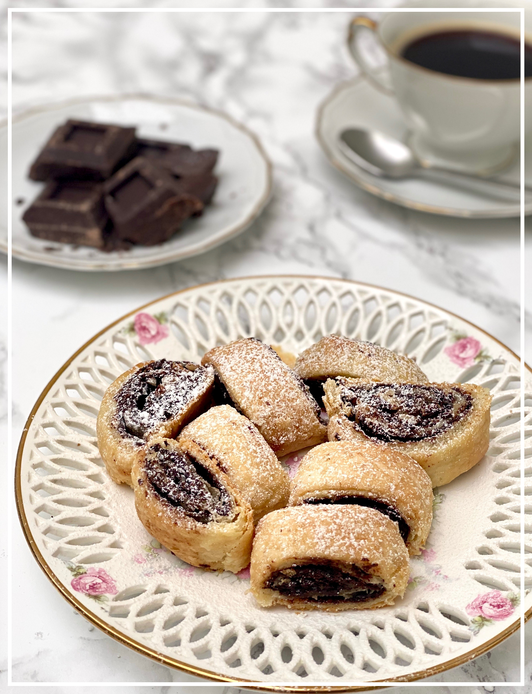 I don't remember the first time I saw rugelach pop up on my Instagram or Pinterest feed earlier this year, but I know I stopped scrolling immediately and looked closely at what I saw. I remember wondering, is this a cookie? Or a pastry? Is it soft? Or is it firm, more like a shortbread? Why is it shaped like a tiny cinnamon roll? Or a tiny croissant? I was intrigued. I had never seen anything like it, and I thought I had seen (and eaten) a lot of different treats in my life so far. Of course I went on a quest to learn more about this mysterious treat, which I learned is called Rugelach.
During my "research", I found out that Rugelach is treat that apparently originated in the Jewish communities of Poland and is very popular in Israel. If I didn't already had tons of reasons why I want to visit Jerusalem, this for sure is another one! Also, the traditional shape of a Rugelach is the crescent, kind of like a croissant. It can be filled with nuts, marzipan, jam or chocolate or anything else you like. Or combinations of those!
After all this hard work, I knew I had to make it myself. Because no matter how much I read about it, I just needed to know what it tasted like! I looked at different recipes and chose one, which I adapted slightly for a chocolate filling. The dough is so interesting! It's almost like a mix between a classic puff pastry and a shortbread dough. It's flaky and rich, and the taste is slightly tangy and buttery. I definitely want to try this dough with a savory filling one day. I made some Rugelach with just chocolate as a filling and some with chocolate and chopped almonds. I think I preferred the version with nuts. All in all, this version of Rugelach isn't hard to make, as the dough comes together in minutes and requires little manual work. The spreading of chocolate and the rolling can get a little messy, but I don't mind that. I thought the Rugelach came out well and I would definitely make them again for chocolate lovers. I hope you give it a try, too!
Chocolate Rugelach
makes about 20-25 cookies
Ingredients for the dough
255 g all purpose flour

a pinch of salt

226 g unsalted butter, cold and cut into cubes

226 g cream cheese, cut into cubes
For the chocolate filling
150g semi sweet chocolate, chopped

50 g chopped nuts (optional)

1 egg beaten with 1 Tbsp of milk
Preparation
First, prepare the dough. Place flour and salt in food processor and pulse to combine. Add pieces of cream cheese  and run machine until it's fully dispersed into the flour. Add butter in chunks and run machine until dough starts to clump and come together. Dump out onto a large piece of plastic wrap and form into a flattish disc. Refrigerate the dough until it's firm, which can takes at least 30 min. Longer is fine, too.

Pre-heat the oven to 350 F/175°C and line a couple baking sheets with parchment paper or nonstick baking mats.

To prepare the filling, melt the chocolate over low heat, either in a microwave or in a saucepan. Stir to combine and then put aside. If you want, you can add some chopped nuts or even a little bit of sugar, if you like it sweeter.

Divide dough into quarters and roll first quarter out on a floured counter into a rectangle about 12 inches wide and 7 to 8 inches long, with the wider side to you. Thinly spread dough with melted chocolate to all but the furthest ¼ inch from you (leave a border on the long sides). Use a quarter of the melted chocolate for each quarter of dough.

Roll dough from the long side in front of you into as tight a log as you can, using your fingers to lightly seal the ends onto the log. Repeat with remaining logs.

Place log of filled dough in freezer for 10 to 15 minutes or the fridge for 30 minutes, as it will cut more cleanly once firmer. Cut incisions into the log, about 1cm in between, and make 10 to 12 even slices, but don't cut all the way through just yet! Arrange the whole logs on the prepared baking sheets.

Brush tops lightly with egg wash. Bake for 20 to 25 minutes, until golden brown on top.

Remove the logs from the oven and fully cut the pieces while the logs are still hot. Cool only a few minutes on baking sheet before transferring the cookies to a cooling rack.

Cooled cookies keep in a container at room temperature for a week, and in the freezer for a month.
Recipe adapted from Well Seasoned Studio