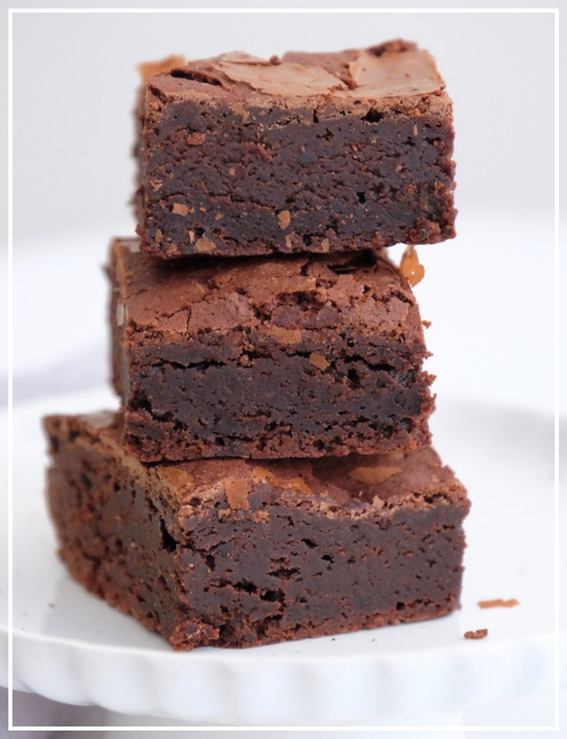 Brownies waren schon immer mein Kryptonit. Viel mehr als Kekse, Kuchen, Muffins, Cupcakes - zu nichts davon würde ich nein sagen, aber wenn ich mich für den Rest des Lebens nur noch für ein Dessert entscheiden müsste (was eine schreckliche Vorstellung!), wäre es der Brownie. Ich liebe Brownies, weil sie 1. schokoladig schmecken, 2. nicht einfach wie Kuchen schmecken und 3. super verwandlungsfähig sind. Lust auf ein echtes Dessert? Dann gibt's einen warmen Brownie mit Schokosauce und einer Kugel Vanilleeis. Im Sommer gibt es Brownies mit frischen Himbeeren im Teig und wenn's mal etwas Besonderes sein soll, gibt es Tahini-Brownies mit Fleur de Sel. Brownies sind einfach unschlagbar! Deswegen habe ich auch vor einer Weile bereits eines meiner Lieblings-Brownie-Rezepte gepostet. Und obwohl ich das Rezept liebe und es unzählige Male gemacht habe in den letzten sieben Jahren, was ich trotzdem noch immer auf der Suche nach einem etwas anderen Brownie Rezept. Kennt ihr das, wenn man in einem Café einen Brownie zum Mitnehmen bestellt, und man packt ihn aus, und er ist extremsaftig, aber gar nicht kuchig oder weich, fast schon eher wie zähes Fudge? So, dass die Zähne beim Abbeißen einen richtigen Abdruck hinterlassen, so fudgy? So, dass dieser Brownie für manche Leute schon zu viel des Guten ist. Das klingt für so manchen Menschen jetzt vielleicht völlig befremdlich. Auf das Risiko hin gestehe ich, dass ich immer nach diesem Rezept gesucht habe. Ein Rezept für einen Brownie, der eher wie Fudge schmeckt als alles andere, und trotzdem nicht nur süß sein soll, sondern auch aromatisch. Ich habe immer wieder neue Rezepte ausprobiert, aber erst letztes Jahr habe ich es endlich gefunden. Ich hatte mir schon gedacht, dass so ein Brownie nur ohne Mehl diese Konsistenz bekommt, da vor allem das Mehl für die Struktur sorgt, die Kuchen ähnelt. Ich wusste, dass wenn das Mehl fehlt, dass es dann auch eine andere Textur gibt. Gleichzeitig sollte es nicht allzu saftig sein, sondern eher zäh-cremig. Aber ohne verrückte Substitute wie Avocado, Bohnen, etc. etc. Nein, ich wusste, diesen einen Brownie, den muss es doch geben, und zwar mit normalen Zutaten! Und dann habe ich endlich das Rezept gefunden. Am besten schmeckt dieser Brownie tatsächlich am nächsten Tag, nach einer Nacht im Kühlschrank. Ein kleines Stück reicht schon, denn er ist wirklich intensiv-schokoladig und reichhaltig. Eine echte Brownie-Bombe. Aber sowas von gut!
Super fudgy & chewy Brownies (flourless)
Makes about 12 brownies
80 g white sugar
50 g light brown sugar
280g chocolate (50-70% cocoa), roughly chopped
60g unsalted butter, at room temperature
3 eggs, size M (about 150g)
20g unsweetened cocoa powder 
1 tsp vannila essence or vanilla bean paste
1 pinch of salt
Optional: more chopped chocolates or nuts for folding in
Preparation
Preheat the oven to 170°C (circulation oven - temp may vary, depending on your oven). Line a square or rectangle baking dish with parchment paper in the way that there's some generous overhang on opposite sides. This will make it easier to lift out the brownies later. The tin should be about 20x20cm in size.
In a pot over low heat, melt the chopped chocolate. Whisk every now and then, to make sure nothing burns. You can also use a microwave on low for short intervals. Give the chocolate a good mix inbetween intervals to make sure nothing burns. Put the melted chocolate to the side.
In a mixing bowl, add the two kinds of sugar, the salt and the vanilla to the soft butter. Use a hand held electric mixer to beat the butter-sugar mixture until light and creamy. The volume will also increase. This will take about 5 minutes, if you do it by hand, it might take longer.
Whisk in the eggs, one at a time. Mix after each egg, until everything is well incorporated. Fold in the cocoa powder.
Lastly, fold in the melted chocolate until it's well incorporated. The mixture should be glossy. Don't overbeat the batter: Once you can't see any more streaks of chocolate, stop whisking.
Optional: Now is the time to fold in more chocolate or nuts. You could also fold in berries, marshmallow or basically anything else!
Add the batter to the prepared baking dish and smooth it out. Add it to the middle rack of the oven and let it bake for 20-25 minutes. The exact time will vary a lot depending on your oven! Therefore, it's best to check at the 20 minute mark and then check every three minutes, so it's not overbaked. It will be done if a skewer inserted comes out mostly clean - crumbs are okay, wet batter means it needs a bit more time in the oven. Do not overbake! The brownies will harden and set up more, once they've cooled down.
Let cool in the pan for about 20 minutes. Then you can carefully lift out the whole brownie by using the strips of overhanging parchment paper. Put the brownies on a plate and let them cool completely. Once they've cooled down, you can cut them into pieces.
Personally, I love the brownies the most once they've spent a night in the fridge! 
Recipe adapted from Glutenfree on a Showstring. Check out the blog for lots of good tips and ideas for substitutions.